<!a href="news.html" onMouseOut="MM_swapImgRestore()" onMouseOver="MM_swapImage('news_button','','images/events_bar_02c.gif',1)">

Tom Goldtooth | Nuestro Ambiente | Poetry Slam
EJ Theater Troupe | South Africa | South Korea
The Environmental Justice Poetry Slam
Ann Arbor, MI
November 21, 2002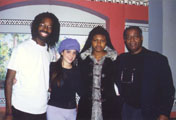 While climbing the mountain of knowledge, one often finds the footprints of the poet. On November 21, 2002, the Environmental Justice Initiative of the School of Natural Resources and Environment sponsored the first Environmental Justice Poetry Slam. A poetry slam is competitive performance poetry. Over 300 students crowded the University Club in the Michigan Union on a rainy night to hear 16 contestants performing their original poetry on various aspects of environmental justice. The poetry slam was preceded by an open mic, followed by a performance from nationally known poet Bonafide Rojas. Later this year poets will be asked to join the Theatre Troupe to help recruit students, particularly students of color, in high schools and colleges throughout the country.
Poetry has its place in science and in the environmental justice movement to teach and attract potential students to the issues of environmental justice and eventually the School of Natural Resources and Environment.
Photos:
Left: The winners with Dr. Bryant, right. From left-William Copeland (third place winner), Molly Raynor (second place winner), Eseohe Arhebamen (first place winner).
Right: Bonafide Rojas.